Welcome to our private listings page! Please call us at (270) 877-5636 if you need more information or have questions about any of our listings.
SOLD! Max has listed 12 acres in the city limits of Vine Grove. This connects Central Avenue and Hwy 1500. If interested please give Max a call at 270-877-5636. We have a plat on this property.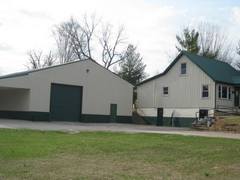 Selling Real Estate (known as A-1 Auction & Realty): It consists of a 40x60 metal building with a 16' x 50' overhang & heavy duty reinforced concrete floor. Finished on inside, well insulated, 2 large overhead doors, forced air natural gas heat, suitable for many types of businesses. Lot sizes 190' x 198', adjoining vacant lot 104' x 210'. Separate 5 room office building with first floor and basement presently being used for offices, has finished area in basement also 2 rooms on 2d floor, 2 baths, forced air natural gas heat. These 2 buildings are situated right beside each other. Lots of parking, close to Highway 313 (Joe Prather Highway) and I-65. Must see to determine the use you would have for this property.

Please give Max a call about this good property. He would like to show it to you at your convenience. We are continuing in the Auction & Realty business, only planning to move our office to our home. Auctions will be held on the site of the seller's property unless other arrangements have been made by us.

| | |
| --- | --- |
| | |