ST. AGNES PARISH

2019 CHRISTMAS BAZAAR
Friday, November 1, 9:00 am to 5:00 pm

Saturday, November 2, 9:00 am to 4:30 pm

Location: basement of St. Agnes Church

1008 McLary Road, Nashville, IN
NO ADMISSION FEE, FREE PARKING, ELEVATOR ACCESSIBLE

Cash or checks accepted, no credit cards

See "Location" section of this web site for driving directions to the church. See the weekly parish bulletin and the St. Agnes, Nashville, Facebook page for updates and further information as it becomes available. You do not have to sign up for Facebook to view our posts. Go to the Home page of this web site and click on "Visit us on Facebook" at the top of the page, and it will direct you to the St. Agnes Facebook page.

Come to the St. Agnes Christmas Bazaar to find great bargains for your holiday needs. This year we are featuring:

GIFT BASKET AND DECORATED CHRISTMAS TREE SILENT AUCTION: We have themed baskets in a wide range of values that include items for babies and children, food, spices, wine, coffee, tea, chocolate, collectibles, barbecue, kitchen and baking, crafts, gardening, holiday décor and serving pieces, etc. Many baskets are suitable to put directly under the tree as a gift with no additional work of wrapping or to use as a hostess gift at your holiday gatherings. We have unique decorated Christmas trees, sized for a small space, to enhance your décor or to give to your favorite senior who has downsized their space. Bidding closes at 3:00 pm on Saturday, November 2, and highest bidders will be notified by phone. We will also have a buy-now price on all items. Free baskets to fill will be distributed after all the masses on the week end of September 21-22, on a first-come basis.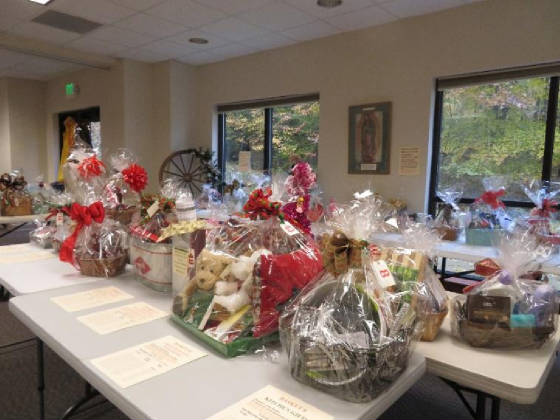 CHRISTMAS DECORATIONS AND GIFT SALES: We have ornaments and holiday décor, collectible Santas and houses, figurines and dolls, jewelry, wallets, accessories, books and household items, as well as a large selection of Coca Cola collectibles and a limited number of art pieces and antiques. We also have hand-made knitted and sewn items and other crafts made by our talented parishioners. Our paper crafts group will have their curvy boxes (turkeys, Santas and other) to fill with candy or other favors at your holiday table, gift card holders, greeting cards, candy treats (perfect for stocking stuffers), and lighted decorated bottles. Visit our Kids Corner to select gifts from an assortment of children's books, toys and other items. Several items for sale this year are displayed in the pictures below.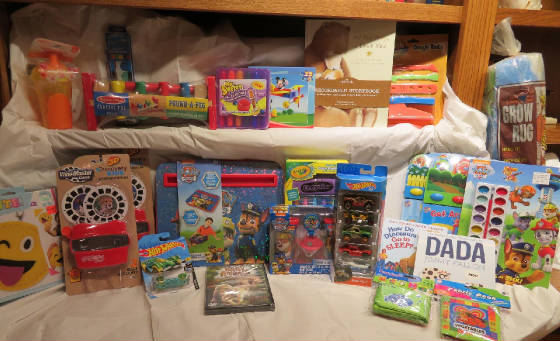 RAFFLE OF FULL-SIZE QUILT in "Hunter's Star Pattern"- The quilt has a beautiful mix of vibrant colors and was hand-quilted by St. Agnes Guild members and their friends (Quilters are Dolores Francis, Paulette Brester, JoAnn Garreaux, Toni Page, Jean Wawrzyniak, Donna Gray and Donna Braas, binding by Julianna Crawley). Suggested donation amount is $1 per ticket or $5 for 6 tickets. Drawing will take place at 4:00 pm on Saturday, November 2, in the basement of the church. (You do not have to be present to win.) Tickets will be sold after masses at St. Agnes for three weekends beginning October 12, and at the Bazaar on November 1-2. Parishioners will also receive tickets in the mail, which can be returned to the office or to Guild members selling tickets during October.

(Note: The Quilt Raffle is a charity-gaming exempt event approved by the Indiana Gaming Commission.)


This year's quilt is dedicated to the memory of Amelia Eisenmenger Seipel, an avid quilter. Mrs. Seipel's daughter, Mary Lou Seipel Nay, donated the quilt frame to the St. Agnes Quilting Group, as she thought her mother would want the church to have it. The frame is in very good condition and will be used for many years to come.
VISIT OUR SPECIALTY BOOTHS:

BEVERAGES: Our new beverage café, operated by the parish hospitality committee, will sell coffee, tea and water.

GRANDMA'S KITCHEN: Selling your favorite cookies by the pound, as well as pies, cakes and other baked goodies. Delicious individual breakfast pastries for early shoppers.

Tables will be available in the hall so you can take a respite from shopping and have a baked treat and beverage with friends.

ST. AGNES YOUTH GROUP BOUTIQUE: Selling upscale and vintage items, including clothing, shoes, jewelry, signage, small appliances, and small furniture.
MARY KAY COSMETICS BOOTH

by Bethany Drew - personal service and custom recommendations to look your best.

CHRISTMAS FOLK ART BOOTH

by Pat Thummel – wood items, ornaments, and Old World and modern Santas.
JEWELRY AND ARTWORK BOOTH by Georgia Ballinger – Unique jewelry. Original art.
WOOD ART BOOTH by Tom Lowe – religious icons, crosses, children's puzzles, jewelry and gift items. For additional information on Tom's product line, see thomaslowe.net.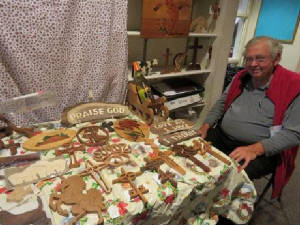 ST. AGNES PARISHIONERS ARE INVITED TO DONATE items for sale at the bazaar, especially home-made items, themed gift baskets or decorated trees, cookies and baked goods, home-canned food, and boutique items for the Youth Group. Also, VOLUNTEER to help set up for the bazaar on Wednesday, October 30 or Thursday, October 31, work at the bazaar on Friday, November 1 and Saturday November 2, and clean up after the bazaar at 5:00 pm on November 2. Contact Donna Braas, djbraas@sbcglobal.net, or Margie Brandon, mebrandon@nwcable.net if you would like to volunteer or if you have any questions about the bazaar.

YOUR PARTICIPATION IS NEEDED. The bazaar is the largest parish fundraiser, and funds are used to carry out our mission in the parish and our charitable activities in the Brown County community. Bring your friends and relatives to make the 2019 St. Agnes Christmas Bazaar a success!